Admax Start
The perfect starter kit for those who want to get started quickly and easily.
*Price is for the first year.
After that, normal price 132kr/month.
Admax Standard
The complete business solution for website and email.
*Price is for the first year.
After that, normal price 198kr/month.
Admax Plus
More performance for the company with larger websites or e-commerce.
*Price is for the first year.
After that, normal price 264kr/month.
*All prices quoted ex VAT
Web hosting with Admax
With us as your hosting provider, you get a lot for a reasonable price. It's also easy to expand resources as needed.
Our control panel makes it easy to get started and you can always ask us questions directly. See below why you should choose Admax as your supplier.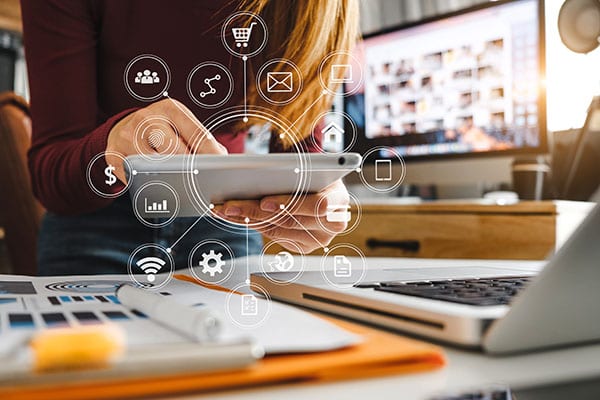 Compare our hosting packages
Compare our hosting packages to see which one suits you best. Don't hesitate to contact us if you have any questions. In the values with ranges below, the lowest number shows the stand and the highest the upper limit of upgraded service.
Start
Standard
More

132 kr/month

198 kr/month

264 kr/month

Free help to move your website & email 1
✔
✔
✔
Admax boost 2
✔
✔
✔
Recommended hosting package for e-commerce
x
✔
✔
Storage & bandwidth
Data storage in Sweden
✔
✔
✔
Storage
20 GB
30 GB
60 GB
Redundant bottle storage
✔
✔
✔
Bandwidth per month
5000 GB
Unlimited
Unlimited
Memory & performance
Total RAM
2048 MB
4096 MB
6144 MB
RAM for PHP
1024 MB
2048 MB
3072 MB
PHP Processors
30
50
50
CPU
1 CPU
2 CPUs
3 CPUs
Backups
Automatic daily backups
1 per day
4 per day (every 6 hours)
8 per day (every 3 hours)
Storage time for backups
30 days
60 days
90 days
Websites & Email
Isolated account
✔
✔
✔
Websites
5
20
Unlimited
E-mail domains 3
1
1
1
E-mail addresses
Unlimited
Unlimited
Unlimited
E-mail space
20 GB
30 GB
60 GB
Uptime & support
Support
Ticket,
chat &
phone
Ticket,
chat &
phone
Ticket,
chat &
phone
24/7 hotline
✔
✔
✔
Guaranteed uptime
99,6 %
99,6 %
99,6 %
Actual uptime
99,9 %
99,9 %
99,9 %
Environment & sustainability
Environmentally friendly electricity
✔
✔
✔
Features
MySQL database
5 pieces
20 pieces
Unlimited
Free SSL - Letsencrypt & ZeroSSL
✔
✔
✔
Premium SSL 4
Optional
Optional
Optional
Malware and virus control
✔
✔
✔
Autoinstaller 5
Installatron
Installatron
Installatron
1-Click installation for WordPress
✔
✔
✔
WordPress multisite
✔
✔
✔
Support for new and older PHP versions 6
✔
✔
✔
Admax control panel
✔
✔
✔
Additional advanced features
OPCache
✔
✔
✔
Memcache
✔
✔
✔
Redis cache
✔
✔
✔
Node.js, Ruby & Python
✔
✔
✔
Version management with GIT
✔
✔
✔
SSH access
✔
✔
✔
WP-cli
✔
✔
✔
SFTP/FTPS
✔
✔
✔
DDoS protection
✔
✔
✔
Payment intervals & prices
Shortest payment interval
3 months
3 months
3 months
Start-up cost
0 kr
0kr
0 kr
9 kr/month
19 kr/month
29 kr/month
Get started
Get started
Get started
*Price is valid for the first year.
After that, the normal price per month is charged: Start SEK 132/month, Standard SEK 198/month, Plus SEK 264/month.
1 Free moving help - we offer free moving help which you can read more about here
2 Admax boost - with Admax's own AS-39806 we offer you a redundant network and with a capacity of over 160 Gigabit/s you will always have fast access to your servers with us.
3 Email domains - each hosting account includes an email domain, with unlimited email accounts and email aliases. If you need to use more, these can be purchased separately via our customer panel.
4 Premium SSL - such as Rapid SSL, Comodo SSL and others require a unique IP number and a certificate. These can be purchased separately via our customer panel for your hosting account.
5 Autoinstaller - allows you to install an application such as WordPress, Joomla, Prestashop and others with one click. Our Autoinstaller supports over 100 different applications to install with one click!
6 Support for new and older PHP versions - in our hosting you can choose from anything from PHP 5, PHP 7 and the latest version of PHP 8.
First-class support
We consider good support one of the most important parts of a web hosting service. You will always get help when needed and can contact us via chat, ticket, email or phone.
Affordable
We offer all our services at a reasonable price and make sure we maintain the highest quality.
Easy to use
Manage all your websites from one place. Install applications like WordPress, Drupal, Joomla, PrestaShop and many more with a few clicks of a button.
Upgrade as needed
As your website grows and gets more visitors, you can upgrade yourself or let us help you.
An environmentally friendly web host
All data centres use renewable energy, energy recovery and modern technologies to reduce our impact on the environment.
Easy and flexible e-mail
All account types include SmarterMail. With SmarterMail, you can easily manage your email accounts, tailored to each user's needs.
---
Technical specification of web hosting
HARDWARE
State-of-the-art servers from Dell™ and SuperMicro™
Latest generation processors from Intel and AMD
Lightning-fast redundant flash storage
SOFTWARE/ACCESS
PHP 5.2-8.2 (choose your own) Perl, NodeJS and MariaDB with phpMyAdmin
Control panel for managing your services
FTPs/SFTP for easy and secure file transfer
SAFETY
Daily backups to geographically separated location
24-hour monitoring of servers
Automatic scans for viruses & rootkits
E-POST
POP3 & IMAP (for email clients) and webmail
Spam and virus filters
Forwarding, filters, autoresponders, aliases, calendar, etc.