Free website and email migration assistance
Is it time to switch to a provider that offers you something unique in terms of both performance and support? We know that it may not be easy to just switch to another web host because it's both time-consuming and boring, and you may simply not have the knowledge to do the job yourself!

Admax - can offer you relocation assistance of your website and e-mail completely free of charge with our relocation tool, we will together with you make a plan on how we will proceed to move your website in the best possible way!
Contact me for website and email relocation assistance
We have web hosting from SEK 9 per month!
See what is included in our web hosting package
Below you can find out how to change your web host and how we can help with the move.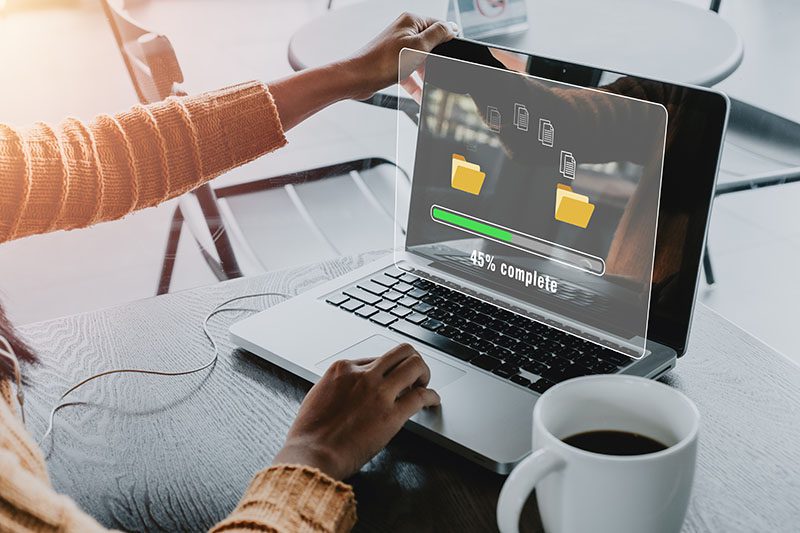 What is included in the website and email relocation service?
Common CMS such as WordPress, Prestashop, Joomla and others.
Simple website built in html with static files and images.
Simple ASP website, in this case it's our Windows web hosting service.
Email addresses including accounts (not Office365)
Domains - We will help you get a so-called authentication code (EPP) from your current domain registrar.
DNS - We help you move your DNS records to us so that you have as little downtime as possible (max 10 min).
If you currently have a Letsencrypt certificate, we will help you create a new one with us when your site exists and points to our web hosting.
We choose the right version of PHP for your application.
What is not included in moving your website and email?
Office 365, we can of course help with this but in that case it will be a separate request and you will have to pay extra for it.
Customised websites that have a database connection with files.
Move out sites built from WordPress.com as some themes and plugins are locked to WordPress.com.
Unlicensed WordPress plugins
Modules that require licences that you no longer have.
Broken websites - But we can help you troubleshoot and fix your website for a fee or build a new website for you.
If we are unable to move your email using our removal tool, we will contact you to discuss how to proceed, as costs will be incurred.
How does the move work?
You start by ordering a web hosting contract that must be signed for one year, then you fill in our contact form below, we will then contact you to schedule a date for the move that suits you. We can usually guarantee a move within 1-7 working days between 08-17, if you want the website moved outside regular working hours, a fee will be added.
We will first have a brief review with you, what you will need to get information such as FTP, control panel, etc. so that we can access your material that you have on your current web hosting. After we have received this information from you, we will plan the move and make a so-called test move first. Once we have verified that the website is working properly, we will contact you and then do a final database migration and re-point the DNS records from your current hosting to ours. Finally, we will help you transfer your domain name from your current domain registrar to us so that you have everything in one place.

What you may want to check before contacting us is the following:
Control panel details for your old web host.
FTP/SFTP user credentials for accessing files.
Database / PHPmyadmin to export your database to us.
Authentication code to transfer your domain names to us.
If you are unsure about FTP/SFTP, databases etc. don't worry, we will help you get this information from your current provider without you having to worry about what it all means. Leave it to us who are professionals!
WordPress migration assistance - how it works
Let us help you move your old WordPress, we are experts in WordPress, whether your PHP version is older than the latest PHP version, you can still use it with us without any problems. We support all PHP versions from version 5.4 to 8.2 and you can easily change the PHP version with one click via the customer panel!
Frequently asked questions and answers about website migration
How do I transfer a domain name from another registrar?
Transferring a domain name is usually very simple. What you need is access to the domain's password, often also called AuthCode or authorisation code, and once you have this, you can then take this password to your new domain name provider, your new registrar, and enter it into their control panel. In most cases, this is all that is required for common domain names like .se, .nu and .com. Sometimes there are a few more steps required, but we've created a guide on how to do this if you want to transfer your domain name to us. If you feel you need help, please contact our support team and we will help you. The guides can be found here!
Can you move all types of web pages?
Almost all types of websites can be moved relatively easily. Some websites are built entirely in HTML and perhaps use some basic javascript and these are always easy to move from one web host to another. However, most sites today are built using a content management system (CMS), such as WordPress or Joomla, and sometimes they also have an e-commerce function such as WooCommerce. These can also be moved, but require moving a large number of files and one or more databases. We can help you with this and currently we can move most websites built with a CMS, including WordPress, Joomla, Prestashop and Drupal.
The only time it can be more difficult or impossible to move a website is if it was built with a tool that is not publicly available and where parts of the code needed to display the website are in the tool itself, but even here there is usually a solution. Feel free to contact us before a move and we will go through together which migration method is most suitable for your website.
How much does it cost to change web hosts?
When you move to a new web host, you usually pay for a year's subscription at once, but there are often alternative payment periods available. Some web hosts charge by the hour to help move a website, but with us it's always free if you choose an annual subscription.
How much does it cost to move emails?
We offer free email migration assistance when you choose to change your email provider in exactly the same way as we offer free website migration assistance.
When you choose to move from another web host to Admax, we offer you a 25% discount for year two.
About Admax
Legal information